Google My Business page
Google constantly tries to help its users on claiming ownership of their business listing, this being one of the most vital segments of any smart SEO strategy. The others are verifying and optimizing Google My Business listing.
The information available on Google.com/business is pretty straight forward, anyone can understand how to take charge of what users see when searching for your online shop or business.
Google Business includes all the necessary tools to update your Business Profile or to build a brand new website, and thus start engaging with your clients by phone, tablet or personal computer. And everything is for free.
Here is a useful tutorial from the Youtube account of Google Small Business that shows you the exact steps to take in order to request management access to a Google My Business page. We suggest keeping an eye open on this account, subscribing to it will help you understand more and more features of the Google Business system, including how claiming ownership works: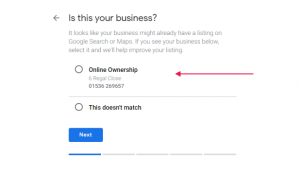 It's important to know that business owners or authorized representatives are the only ones capable of verifying and managing their own business information on Google My Business, but anyone can share management access to any listing by adding one or multiple managers.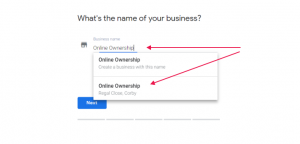 These are the exact steps that you must take for claiming ownership on an already verified Google Business listing:
Go To: business.google.com/create
Start: Typing in the Businesses Name
Search for a business name
Select the correct business
You'll see a message saying someone else owns this business
Click: Request Access
Submit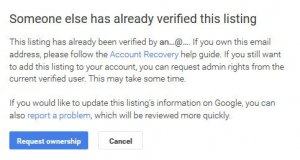 In the unlikely situation that someone else has already claimed your Google Business page, you will simply have to find out who owns it and send a transfer ownership request to by email.

In case a former colleague or employee has claimed your business page, you can take ownership if you can still access that company email account, which may be tricky at times.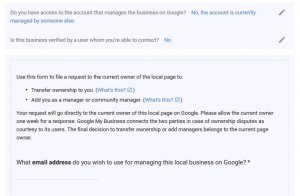 Google knows this. In case you won't be able to contact that person or find out what their email was, you can relax, as Google will simply take care of it for you. You have to fill out a form and wait approximately one week for everything to be taken care of in your direction.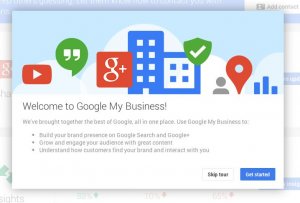 There are instances when requests are denied. If your ownership request won't be approved, Google will notify you by email and also when signing in to your Google My Business account.
You will still be allowed to suggest an edit to the listing or, in some special cases, appeal Google's decision.
If the decision will take too long and you won't be hearing from anyone after 7 days, you might be allowed to claim the listing yourself. You will have to sign in to Google My Business and look for a Claim or Verify button on your dashboard. In case you won't see an option to claim the listing, it means that t's not eligible to be transferred.
Once your Google My Business Page is verified and your ownership is set, you will have to optimize it for SEO. The success rate of your visibility ranking in local search results is crucial for the success of your business listing.
Here are a few tips to help boost your SEO and UX and gain more and more success with your business.