Archive for the 'Mobile development' Category
Thursday, February 6th, 2020
Swift?
I won't blame you if you've never heard about Swift before. It's a programming language just like C++, Java or Python. So why did Apple reinvent the wheel when there are so many alternatives to it?
Simplicity. Just like everything made by Apple, Swift is simple, elegant and very easy to understand and work with.
What is it?
Swift is a compiled programming language for iOS, iPadOS, macOS, watchOS, tvOS, and Linux applications.
It's safe because its syntax encourages you to write clean and consistent code. It also provides safeguards to prevent errors and improve readability.
And more importantly, it's fast. Very fast. Swift was built with performance in mind. Not only does its simple syntax and hand-holding help you develop faster, it also lives up to its name. And keep in mind, it is 2.6x faster than Objective-C and 8x faster than Python.
A brief history about Swift
First introduced at Apple's 2014 Worldwide Developers Conference (WWDC), Swift programming language has generated considerable debate ever since. Chris Lattner, Apple's Senior Director, Developer Tools Department, started designing the basic concepts of the new language back in 2010.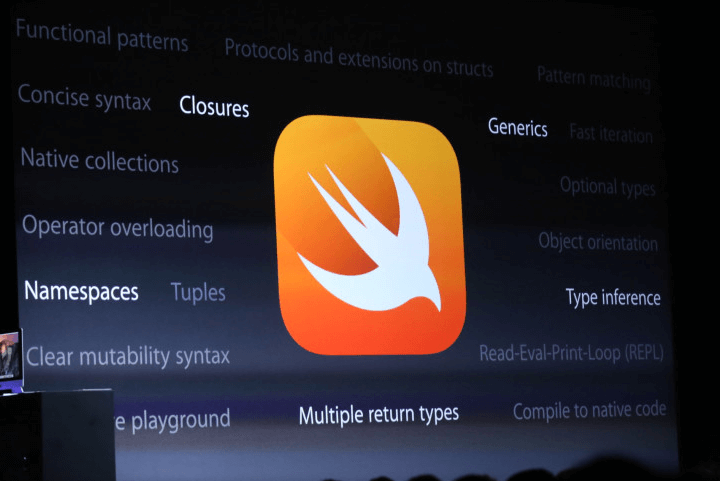 It wasn't until 2013 that the team was able to solve a strategic question about how the new language would fit in with the existing Objective-C ecosystem. Forcing all iOS developers to move to a new language could have had a major disruptive effect on the community. So, the company decided to continue investing in Objective-C while also committing to the development of a new "safe programming language."
But in 2015, there was a major turning point for Swift – it became open-source. Ever since then, it's growth has been huge, being adopted and loved by millions around the world.
Swift 5.0
In March 2019, Swift 5.0 was officially released by Apple. The current version of Swift now contains a stable version of the application binary interface (ABI) across Apple's platforms. This is a giant step toward helping developers use Swift on dedicated OSs like iOS, iPadOS, macOS, tvOS, and watchOS. Needless to say, Apple is building a solid ecosystem, as now standard Swift libraries are included in OS releases.
SwiftUI was introduced in the release, which is basically a library of controls, graphic elements, and layouts for Swift applications that can be used to design user interface. The update also brought renewed documentation, updated CLI Xcode 10.2, and binaries for Ubuntu. Swift also became backward compatible with its previous versions. The list of languages that it is interoperable with now includes Ruby, Python, and JavaScript.
Since the release version 5.0, standard Swift libraries are integrated into every macOS, iOS, tvOS, and watchOS release. That means any app built on those platforms will be smaller, because these libraries are included. With this advancement, stable application binary interface (ABI) was also released. This allows Apple to provide support of Swift across its platforms.
Why you would want to use Swift over other alternatives
Well, first of all – the development process is extremely fast. Swift is very easy to write and read, being very concise, which means less code is required to perform the same task, as compared to Objective-C. Automatic Reference Counting (ARC) does all the work tracking and managing the app's memory usage, so developers don't need to spend time and effort doing that manually. Accordingly, it usually takes less time to build iOS apps with Swift.
In addition to faster development time, we can say that Swift is future-proof and can be extended with new features as needed. Thus, Swift projects are typically easier to scale. The fact that Apple is more likely to support Swift than Objective-C should also get serious consideration for long-term investment.
Additionally, Swift allows you to add more developers to your team if needed: The on-boarding is relatively fast due to the simplicity and conciseness of the code-base. The syntax of Swift is considered near to natural English, thus it offers easy readability for new team members.
Static vs. dynamic libraries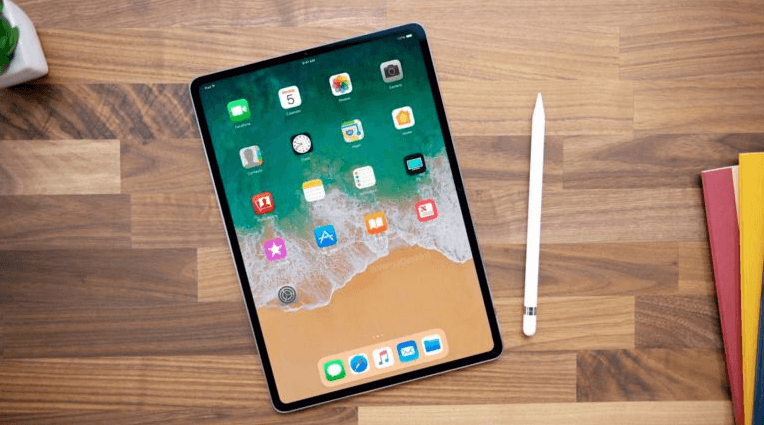 Usually, when you build an app, you use a lot of third-party code – reusable and often open source frameworks or libraries compiled into your app's code. These libraries can be static and dynamic (or shared). Swift first introduced dynamic libraries to iOS when it launched. Usually, static libraries become the part of your executable file, thus increasing its size and load time. They also can't be automatically updated since they're stuck in the version you compiled at. Dynamic libraries, on the other hand, exist outside of your code and are uploaded only when needed. Static libraries need to have copies in all files of your program while dynamic ones do not.
Even though it takes more time to reach for the dynamic code from the outside than call to it when it's already included, you have a choice to keep using static libraries when you want to isolate apps that aren't meant to be shared.
ARC – Automatic Memory Counting
Swift uses Automatic Memory Counting (ARC) – a technology aimed to add a garbage collector function that wasn't introduced to iOS before. Languages like Java, C#, and Go use garbage collectors to delete class instances that are no longer used. They are useful to decrease your memory footprint but can add a lot of extra unnecessary CPU usage.
Before ARC, iOS developers had to manage memory manually and constantly manage retain counts of every class. Swift's ARC determines which instances are no longer in use and gets rid of them on your behalf. It allows you to increase your app's performance without lagging your memory or CPU.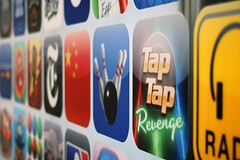 To sum up
For such a young programming language, Swift surely has an great variety of resources to help developers accelerate adoption. Apart from official e-books, there are tons of community guidelines, podcasts, online and even real-life courses and even third-party apps.
Swift has become an even more mature language with the latest update, but there are still a few things that need fixing. Apple is creating its own ecosystem with a stable ABI over its platforms, but it still lacks tooling and support for earlier versions. As such, Swift adoption will continue to grow, which soon might lead to a complete displacement of Objective-C as the leading first-class language for iOS mobile application development.
For business owners, it is important to be ready for any changes the market might impose. Thus, being prepared to switch to the new language with minimum effort and at a reasonable cost should be one of the key strategies for the near future.
Tags: apple, apps, Swift
Posted in Apps, Mobile development | No Comments »
Saturday, February 1st, 2020
In 2019 the total number of global mobile app downloads amounted to 204 billion and users spent over £120 billion on apps – subscriptions and in-app purchases, all in the past year according to Techcrunch. Apps have become a central piece of the user experience on mobile devices like smartphones and tablets. Many companies invest in customer-facing apps and internal apps to address the growing demand for mobility.
With timelines, costs, features, and platforms, there is a lot to consider when quoting a mobile app development project. Gone are the days where you could write a scope of work for a website project and then tailor that to be used to quote an app development project. As mobile apps moved to the forefront of smartphone usage, we had to adapt our methodology when it comes to quoting a mobile app.
Mobile app development has many variables and its price can range from £5000 to £500.000. It's hard to estimate the cost of app development costs for Android and iOS apps, but no worries, we are here to help you with a mobile app estimation of essential expenses for your mobile app development – in order for you to understand how we quote app development, you must know our process.
 Our mobile app development process
With over 13 years of experience and countless projects under our belt, we had the opportunity to work on a large variety of apps.
Our entire development flow is broken down into defined work phases, we use them to plan, design, build, test, and deliver the final product to our clients.
Let's start with the first and most important step: Planning & Business Analysis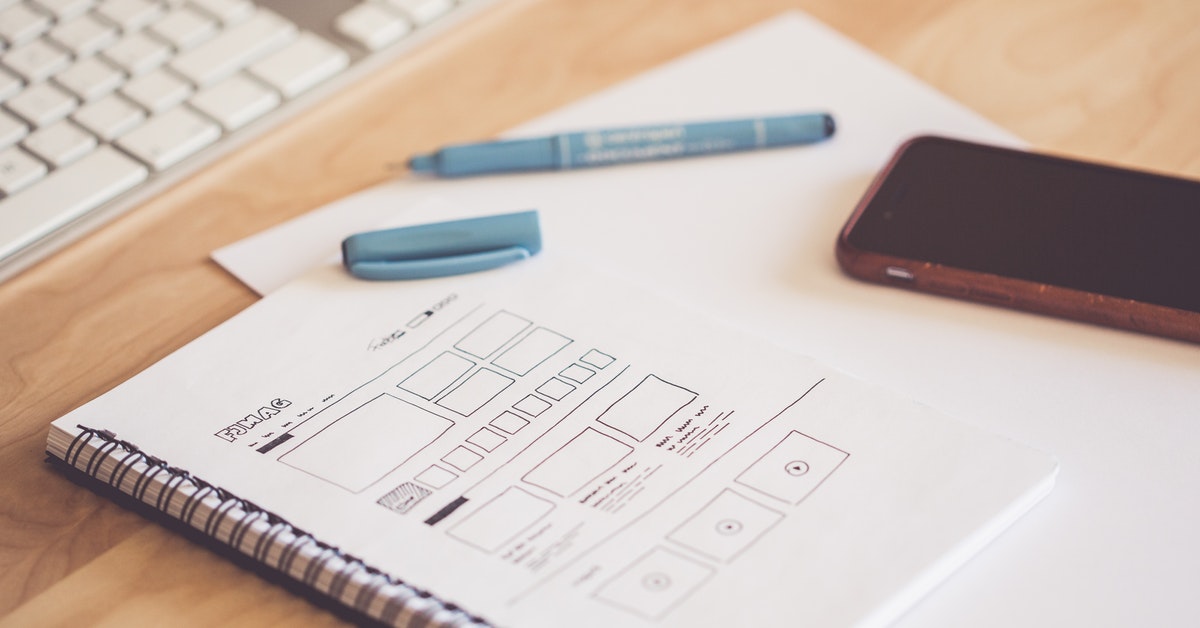 This process involves time and preparation – we need to ensure that the product will meet our client's expectations. This thorough planning process helps to understand where you are now and how to get to the desired point.
We carry out meticulous market research to understand if there is any demand for the app idea and to see what your possible competitors are up to.  We use a SWOT analysis to identify all your competitor's strengths and weaknesses so we can make sure that we can make your app that much better.
The second step is all about the Technical Specifications
We will need you to specify the functional requirements of the app in detail to help us define the idea for your software solution – this involves determining all the project features and what kind of operating systems and devices you want in order to build the app.
The third step is letting us do all the work – Prototyping and Designing the app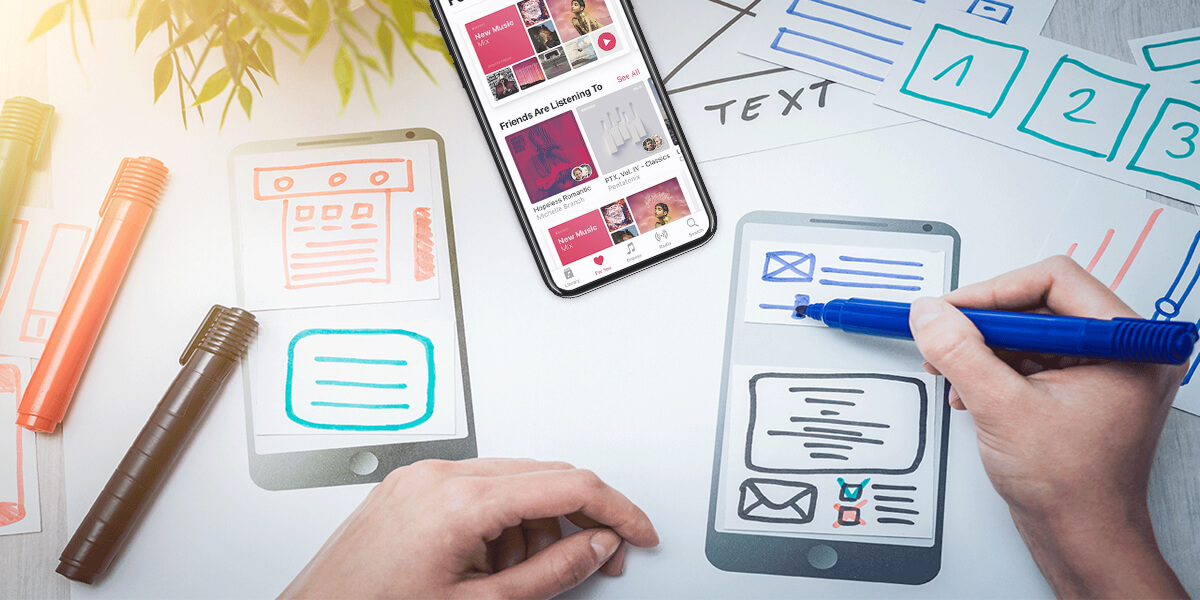 What is a prototype? – you might ask
A prototype is a rudimentary working model of your app. A prototype can help with testing the viability of the idea and can help save a decent amount of time and money.
Prototyping an app involves the following process:
Creating a sketch of the app – this sketch helps with better understanding/working out the logic of the app, showing how different screens can interact with each other
Creating wireframes of the app – this helps with visualizing the app structure and helps our app developers with better understanding the logic and functionalities of the app
Creating the prototype itself – the prototype helps with finding issues and solving them before the live app is coded. It allows us to see where the interaction logic breaks and gives us an understanding of how to improve it.
During this stage there are multiple sketches and wireframes done, with each step of the creative process we help to develop the idea, even more, simplifying some processes to make the app more user-friendly and easier to use.
Development stage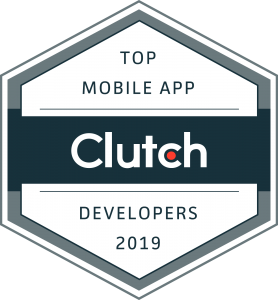 At this stage, we divide the app into two parts: front-end and back-end.
Front-end development involves building the visual part of the app – the user interface. It usually takes about 4 weeks before we get UI that can be tested and on which we can build on.
Back-end development involves building the framework that supports all the functionalities of the app – it can be tricky sometimes as things get complicated pretty fast.
Testing and Quality Assurance
This means that we test every part of the product manually and automatically at every stage of development. There we look to see if the app meets our standards– we make sure that all the bugs are ironed out and our QA engineers check to see if the UX of the app is up to par and that users will understand how it works.
The final stage of app development involves Publishing the app
At this stage, your app is ready to be submitted to the app store by yourself – you can ask us to help you by guiding you through the steps.
The work on an app is never-ending after its release. Every app needs updates – note that post-release maintenance isn't included in the initial cost of the mobile app estimate.
Final thoughts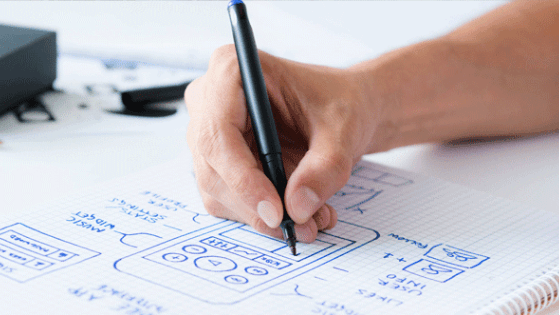 At the end of the day, the cost of app development depends on the app's complexity, number of integrations and the platforms you want it to run on. To receive a precise price estimate we need to know all about the app's proposed functions and business goals. Now that you know all about what quoting a mobile app development involves, it will make it easier for you to know what costs it might involve before asking a development company.
Tags: app development, mobile app development, quoting app development, quoting mobile app development
Posted in Apps, Mobile development | No Comments »
Saturday, January 25th, 2020
Many of us would like to become an entrepreneur and start an online business – we've all had that moment when we thought that we have a good idea for an app that could make us rich but then it never got anywhere. So what can you do with your idea of an app? How can you turn your app idea into reality?
As the number of mobile users increases year after year, there are more and more opportunities for aspiring entrepreneurs who have an app idea. Mobile apps are strongly connected to the service offered by a business, they can help drive more sales that can translate into more revenue.
Whether you want to reach out to new customers or have strong retention over your existing ones, here are a couple of tips when it comes to understanding how to develop your application.
Make a list of all the features that you want your app to have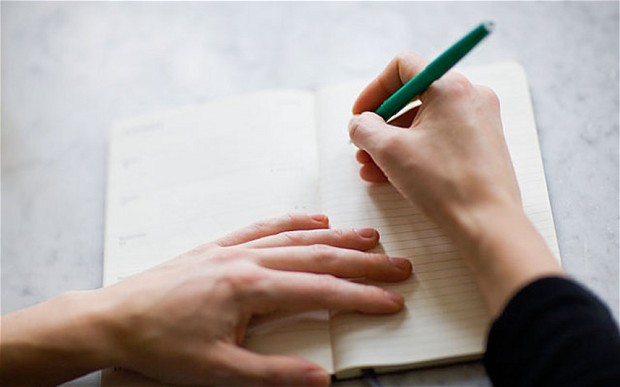 It is essential that you put your points down on paper – absolutely everything that comes to your mind should be on paper. Mobile apps do not have any practical value if they only stay in your head – that's why it is essential for you to move away from that "I have an app idea" phase as soon as you can.
By writing down all the features you'd like your mobile app to have, you'll adhere to those ideas and add more to them later on. This refines your idea to a point where you will have a clear vision of how to turn your app idea into reality.
You will also have to remember that this feature list will have to contain unique features – that are essential for differentiating your product from apps that are already available on the market.
Analyze the Market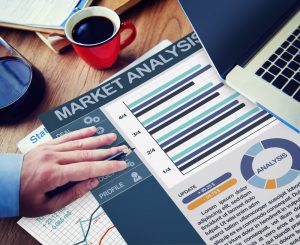 After you have written down the list of features you'd like your app to have, you will have a rough understanding of how to develop your app idea.
The next step before turning your app idea into reality is to get an idea of the apps that are already out there, trends, and specific requirements of the market. Firstly you should look at apps that serve a similar purpose when compared to your app and then keep track of their reviews, feedback, and ratings – this will allow you to get an idea of their weak points.
Once done with the market research, add those features that are capable of making your app unique and more attention-grabbing to your feature list.
Know your audience
The success of your app depends on your audience. Their type range may include particular industry orientations, region, gender, age group, income group and so on.  Now that you know your audience, you need to know something specific or special that your audience or users desire to have.
The better you know the needs of your audience, the better you can tailor your app to suit their needs. After all, the only reason why you said to yourself that your app idea would work is that there was something you knew that hasn't been done before – and it's something that a specific audience desires.
Find a way to make money with your app
Find out how you can collect the fruit of all your labor – you can make money off of your app using the following ideas:
Add a subscription fee
In-app ads
In-app purchases
User Data
Sponsorship
Now that you have the ideas – you just need to know which one is more suitable for your app, audience, and market.
A popular way of making money using applications is by following the Freemium model – this involves making your app free with an in-app purchases option for extra perks.
In-app ads are getting out of date – it's because nowadays it's more up to the user experience, which gets ruined if users experience pop-up ads when they are having fun using your app. However, keeping used data ( of course, with the consent of the user) can help you refine the in-app experience for users and help you use it in various other ways to serve the user's needs.
Prepare the wireframe of your app idea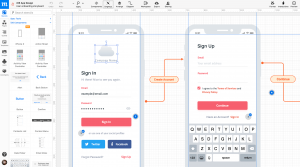 Put all of your notes to use and start building a wireframe of your app. This wireframe will allow you to define the concept much better- it will also help you refine the needs of your product.
You can start off by simply drawing a rough sketch with a pencil and paper –and use online tools to create a wireframe. After finishing the wireframe you can have a look at the way your concept functions and you can polish off the rough edges.  There is no technical skill involved, you just need to use your common sense to come up with an idea of how in-app navigation works.
Using this wireframe and ideas, it will be easier to get estimations from developers.
Get an estimation from app development companies
You have come very far in your journey – now that you have a wireframe and a rough idea of how your app works – it's time to seek the help of app development companies to take care of the technical part.
For this, you can use Google to search for the best app development companies nearby – and it's time to get in contact with them. After the initial contact, it's best to get them to sign an NDA with you, so you can give them the project details.
An experienced app development company will then bombard you with questions – it would be best to answer them – then they will give you suggestions to make your idea better.
Getting a proposal from vendors is wise – with cost and time estimations for development and comparing them properly, you can choose the app development company to go ahead with.
The app development company will build your app and test it for you – obviously, you will have to do some testing yourself, to make sure that everything works as specified.
The final step is Launching your app
Before the launch, you should consider investing in marketing and branding – so your app has a pre-launch hype already built up. Use Twitter and Facebook to spread awareness – these are also the most efficient ways to get new people to use your app.
Now that you've read this blog post, what's stopping you from turning your app idea into reality? An idea is just the start – it's knowing what to do with the idea is what gets you to jump-start a profitable venture.
Tags: app development, mobile app, mobile app development
Posted in Apps, Mobile development | No Comments »
Saturday, January 18th, 2020
Submitting your app to the iOS App Store – how does it work?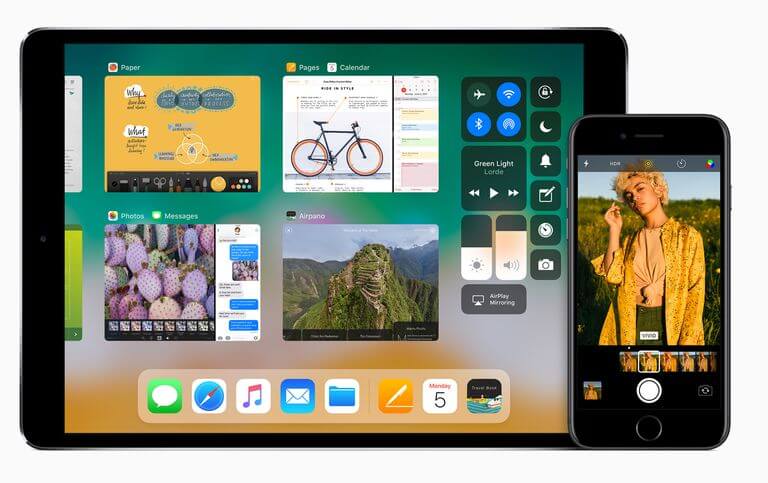 So, you're just launching your brand new app. Submitting an app to the App Store isn't as simple as pushing a launch button, but it's not as complicated as it may seem either.
Assuming that you are already enrolled in the Apple Developer Program, your app follows Apple's App Review and Human Interface Guidelines, these are the steps that you need to follow. As previously mentioned, even though it seems a bit complicated, it really isn't.
Code signing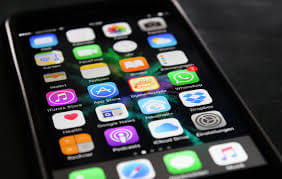 The development provisioning profile and development certificate that you've been using are only for specific devices. Now, in order to distribute your app to beta testers or to users through the App Store, you'll need a separate distribution provisioning profile and distribution certificate.
Our recommendation and the easiest way to do this is through Xcode. If automatic signing is enabled, Xcode will create and manage certificates, signing identities, and handle device registration for you. In some cases, you might prefer manual signing. Honestly, we would just recommend leaving automatic signing on and Xcode should take care of the rest.
Create an iTunes Connect account
Simple, just sign in with the Apple ID you used to enroll in the Apple Developer Program. Now let's add a new app to it:
-In the iTunes Connect dashboard, select My Apps.
-Click on the + sign in the upper left-hand corner, then New App.
-To create a new iTunes Connect record, you'll need these details: platform, app name, default language, bundle ID, and SKU. You can't really change these details later, so be sure of what you enter.
-Use keywords in your app name to optimize for discovery.
-The bundle ID must be an exact match of the bundle identifier in your Xcode project Info.plist file (in the target's General > Identity section).
-The SKU is not visible to users and is up to you to set. It can be an identifier you use in your company or something else that is meaningful for you. Acceptable characters include letters, numbers, hyphens, periods, and underscores, and it must begin with a letter or number.
Archive and upload your app using Xcode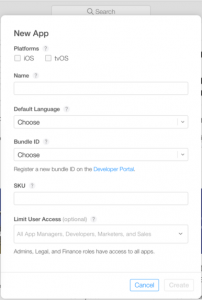 Now, before you can submit your app for review through iTunes Connect, you need to upload the build through Xcode. You can do this by following these steps:
-In Xcode, select Generic iOS Device as the deployment target.
-Choose Product from the top menu and click on Archive.
-The Xcode Organizer will launch, displaying any archives you've created in the past.
-Make sure the current build is selected and click on Upload to App Store in the right-hand panel.
-Select your credentials and click Choose.
-In the next window that appears, click on Upload in the bottom right-hand corner.
-A message will appear when the upload has completed. Click Done.
Configure your app's metadata in iTunes Connect
Under the "App Store" tab in iTunes Connect, in the "App Information" page you can add additional languages, categories, and your app's Privacy Policy URL.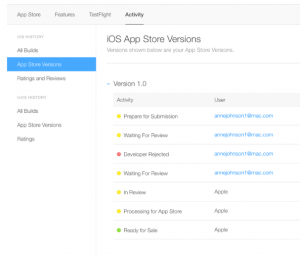 Under the "Features" tab, you can add configurations to any App Store technologies in your app, like Game Center and in-app purchases.
At this stage, your app is marked with a yellow dot and the status "Prepare for Submission" in the left-hand panel under "App Store". Select the build you want to configure. This is where you will add the information for your product page on the App Store.
Submit your app for review
-Scroll to the "Build" section in your app's iTunes Connect record.
-Click on "Select a build before you submit your app."
-Choose the build that you uploaded through Xcode. Click Done in the bottom right-hand corner, then
-Finally, answer the Export Compliance, Content Rights, and Advertising Identifier questions and click Submit.
So, how long does it take in order to get the app approved?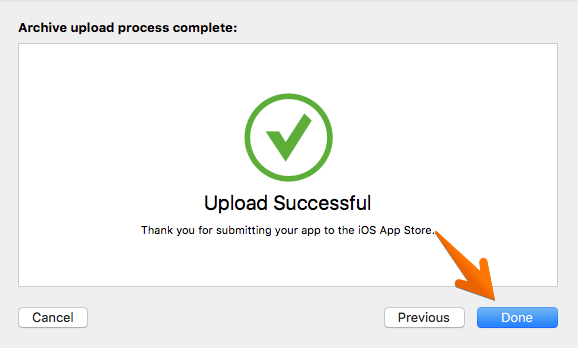 In most cases, it should take about 1 to 3 days to receive approval, and it can take up to 24 hours for your app to appear in the App Store after approval. Also, you'll receive e-mail notifications at each stage.
If your app is rejected, you'll have to make the necessary fixes before submitting your app for review again. You can use the Resolution Center in iTunes Connect to communicate with Apple if you have any sort of questions. You can also submit an appeal if you think your app was wrongly rejected.
If your app gets approved – Congratulations! You're now on the App Store. You can view downloads, sales, ratings, and reviews directly in iTunes Connect.
Tags: app store, ios, submitting app
Posted in Apps, Mobile development | No Comments »
Saturday, January 11th, 2020
The number of people using mobile devices is growing year after year – it is projected that the number of mobile phone users worldwide will reach 6.95 billion by the end of this year. This means that the number of mobile users is far greater than the number of desktop users
Many business owners have thought about ways to win this audience – and the strategies they need to apply: whether to build a mobile website or an application. Unfortunately, there is no single answer to this question, because the options really depend on a number of factors, including the business plans, required features, resources and the web properties they might need.
Some studies have shown that users generally prefer mobile apps more than mobile websites – this makes for a strong enough reason to create mobile apps to attract potential customers.
Let's have a look at a couple of reasons why mobile apps are better than mobile websites:
First of all, mobile apps offer better personalization
With mobile apps, the users have the option to set up their preferences at the start, based on this information, users can then be served with customized content. Mobile apps can also track and observe user engagement, and use their behavioral patterns to offer custom recommendations and updates to the users.
These apps also have the ability to track the user's location – this allows the apps to provide geography-specific content.
These personalization options not only improve the user experience, but they also help to improve the conversion rate. When users are pampered with personalized content, they have a higher chance of making a conversion.
Easily send notifications and offers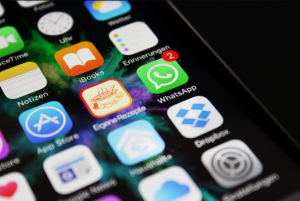 For the last couple of decades, emails have been the main form of communication used to keep in touch with customers – businesses have extensively used emails to reach out to their customers, sometimes spamming their customers with daily emails. As a result, email has lost its effectiveness, this means that open rates and click rates have significantly dropped.
Now, there's a new way for companies to communicate with their customers – Mobile apps
Mobile apps have two types of notifications built-in: Push notifications and in-app notifications – both of them are exciting new ways for communicating with users in a less intrusive manner.
This ability to send instant and non-intrusive notifications to users is so desired, that this is one of the main reasons why many businesses want to have mobile apps in the first place.
In-app notifications are the notifications that the users receive when opening the app and pop-up notifications are the ones that users receive regardless of any activity they are doing on their mobile device.
Users spend more time on Apps
Mobile users spend about 86% of their time on mobile apps, and just 14% of their time on mobile websites – and to add on top of this, the average time a user spends on mobile apps is also increasing.
Another advantage would be making use of the mobile device features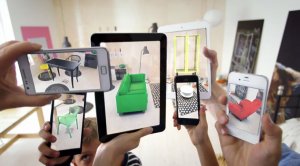 Mobile apps have the advantage of using the features available on a mobile device such as the camera, contact list, GPS, accelerometer, etc.
These features, when paired with an app, can make the user experience a lot more interactive and fun – they can also help reduce the efforts users would have to make otherwise. For example, when accessing their bank account, users can use the built-in face ID or fingerprint scanner to quickly access their banking app – if they would have to do this on a web browser, they would have to type in their passwords, wait for the 2-factor authentication message to arrive, type that in the textbox and then they would be able to do whatever operation they want.
These device features can significantly decrease the time it takes to perform certain tasks and can even boost conversions.
Mobile Apps can be used as powerful eCommerce tools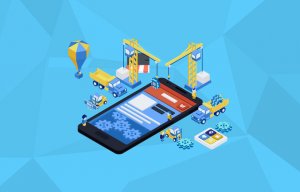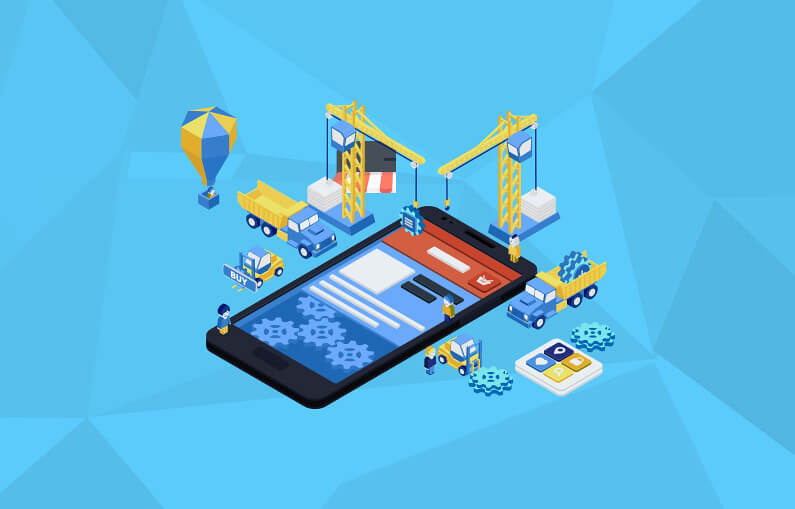 In the eCommerce sector, mobile apps are blowing websites out of the water – they are much more superior when it comes to closing deals with prospects and leads, pushing them faster through the purchasing funnel.  It is estimated that mobile apps have a 3 times higher conversion rate than mobile websites and 1.5 times higher conversion rate than desktop versions. In total, more than 40% of people that download an eCommerce app make a purchase afterward.
Why do eCommerce apps have such a dramatic effect on conversions?
It's because they save users data and spare people the ordeal of filling out credentials every time The in-app environment allows effortless, once click checkouts and fast loading times.
Final thoughts
Developing both a mobile website and mobile app for your business can prove to be a costly affair, depending on the size of your business, budget,and goals, you might have to choose one of the two channels. While both channels have their pros and cons, mobile apps can help you get higher conversion rates. Mobile apps offer greater personalization and operational efficiency, along with multiple other exclusive features.
Tags: mobile app, mobile app development
Posted in Apps, Mobile development | No Comments »
Friday, December 20th, 2019
The smartphone market has grown to become one of the largest markets when it comes to tech. As manufacturing processes have improved over the past decade, smartphones have become a pinnacle of modern technology. But without the proper software to power them, these phones would be high-priced pieces of glass and metal – or plastic sandwiches.
If you're buying a new smartphone today, the chances are that it will run on one of the two main operating systems, Android or iOS. These two operating systems have been used in all of all new smartphones shipped this year – according to IDC. After Microsoft and Blackberry threw in the towel, Android and iOS are the only mainstream operating systems left – the good news is that both smartphone operating systems are excellent. These two operating systems have their similarities, but there are some important differences that you'll have to consider when buying a new phone.
To compare Android vs iOS, we have selected a couple of categories and we will compare each one – but the final decision depends on you. Only you know which features/categories are most important for your day to day use.
First, let's talk about the first thing what comes to our mind when we decide on buying a smartphone – The Price
Apple has always been known for being at the higher end of the market in terms of pricing. This year they've launched their iPhone 11 Pro with a starting price of £1049 and the iPhone 11 Pro Max with a starting price of £1149. If you are looking for the iOS experience, but you aren't prepared to give out a ton of cash, you can grab the iPhone 8 for £479 – this is as cheap as it gets unless you want to buy a second-hand phone.
Android, on the other hand, is unbeatable when it comes to the sheer scale and variety. You can spend a lot if you want to on top tier flagships such as the Galaxy note 10+ or the Google Pixel 4 XL – their prices almost match Apple's iPhone pricing. You can also go for mid-range devices that are a lot cheaper than the flagships and yet offer almost the same experience when it comes to UI and software – these manufacturers have deliberately optimized Android to run on low-end hardware.
Applications
Android leads the field of free apps- should make it the natural choice for budget-conscious users.
Let's have a look at how many apps exist on the Google Play Store and on the App Store
Android apps: 2.7 million
iOS apps: 2.2 million
Numbers aren't really the best metric in this case – the most popular apps usually have versions on both app stores. Traditionally, iOS has been a more lucrative platform for developers, so there is a tendency for new apps to appear on iOS first.  Usually, the latest and greatest apps first come to iOS and later get listed on the Google Play store.
Battery life and charging speeds
Battery life is an important factor when it comes to choosing your smartphone – it's difficult to compare Android and iOS because of the lack of common hardware. iOS is optimized to squeeze the most out of the battery per mAh rating, but you can find Android devices with much larger batteries that can outlast an iPhone easily. Both platforms offer battery saver modes that can extend the battery life by limiting the power consumption of the devices.
When it comes to charging speed, there is no question that Android devices are faster. The Oppo Reno Ace, for example, is capable of fully loading its 4,000mAh battery in just 31 minutes. Whereas the iOS devices, like the iPhone 11 Pro can take about one and a half hours to fully charge.
Comparing similarly priced Android phones with iPhones, they tend to have longer battery life and they always have fast chargers included in the box with and Android phone.
Updates – can be an important factor when it comes to features and security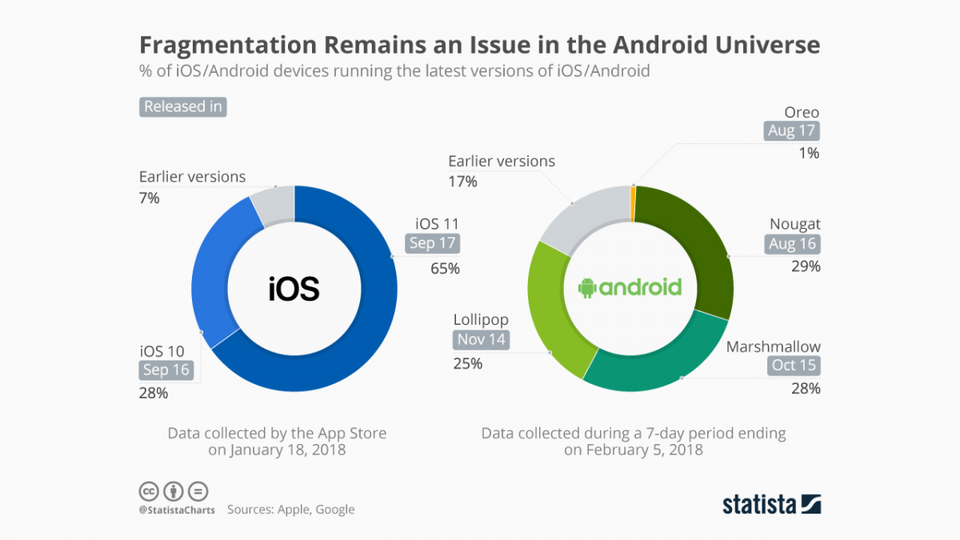 Apple's iOS offers consistent and timely software updates and security patches for all of its newer devices. If you want the same experience on Android devices, then you will have to buy Google's Pixel devices. According to statistics, almost 90% of all iOS devices are now running the latest version of iOS. By contrast, only around 10% of Android devices are running the latest version of Android 10.
If you want the latest features and security updates, then you should choose iOS.
Voice assistants – Android vs iOS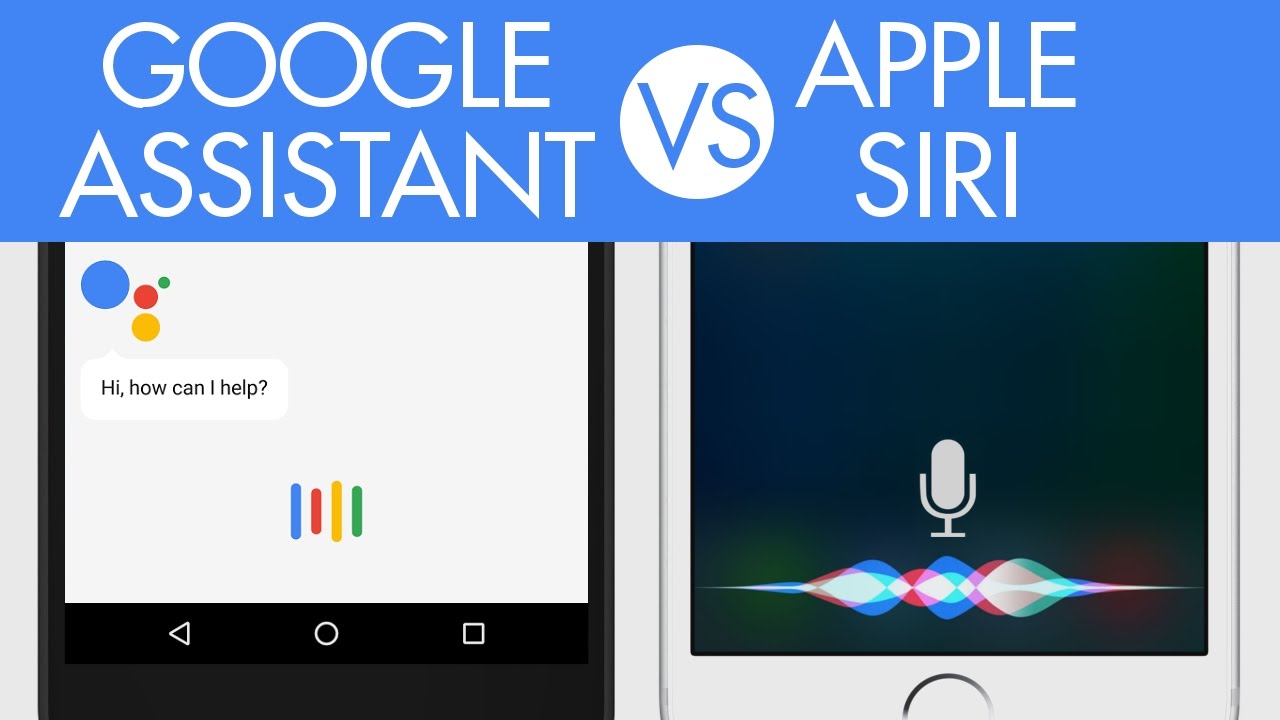 Both Siri and Google Assistant offer almost the same features, Siri is more like a straightforward helper for setting up calendar appointments, searching the web or making calls. Google Assistant on the other hand, has an extra layer – it can preemptively offer useful suggestions, plus it has a more conversational side that offers entertaining games and contextual information based on what you are doing.
Camera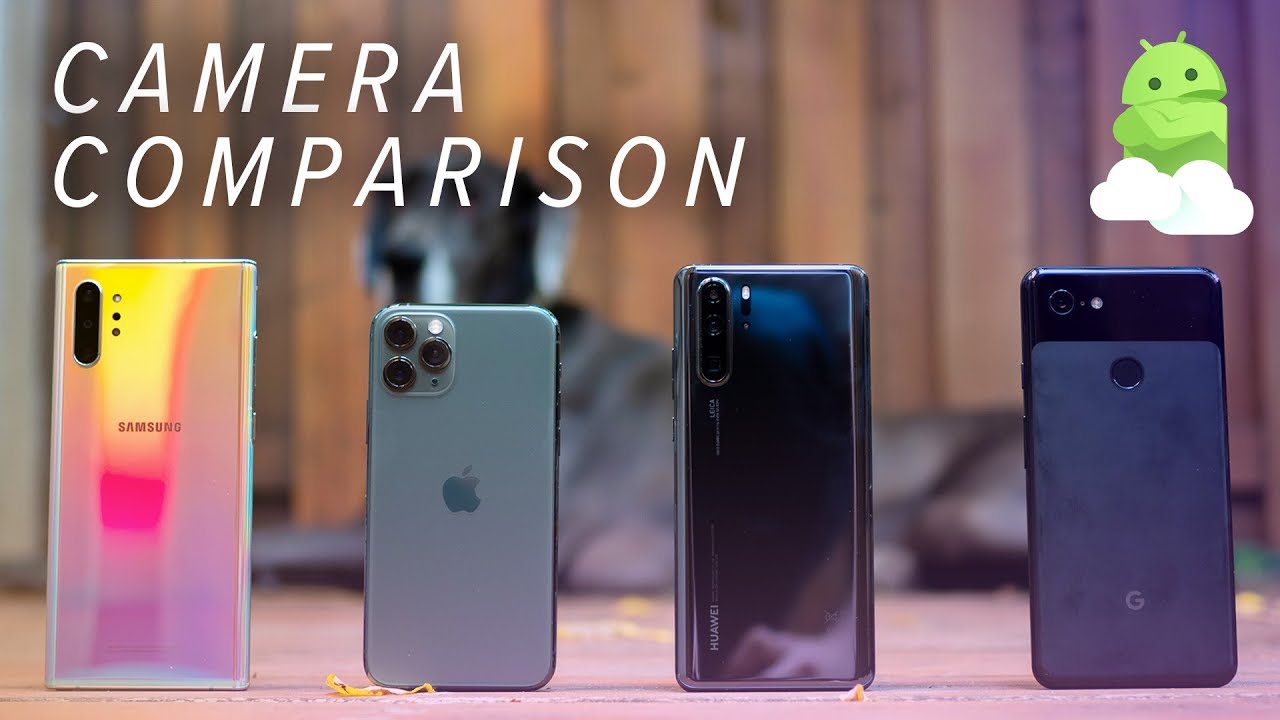 Last but not least – the Camera. Some people choose their smartphones based on their camera. It's difficult to call – in the past, we've argued that Apple does a better job at capturing lighting, coloring and other details – but the latest Android devices are casting a lot of doubt on that assertion. Nowadays flagship cameras are very close in terms of picture quality and lighting, mostly it's up to the final user to decide how do they like their pictures – do you like it with natural colors or with some image processing? Weaker or stronger HDR? – it mostly depends on you.
At the end of the day, the final decision mostly depends on you – whether you are already used to one ecosystem – UI, functions, and usability. This Android vs iOS comparison was written to guide you to making your final decision.
Tags: Android os, Android vs iOS, ios
Posted in Apps, Comparisons, Mobile development | No Comments »
Sunday, November 24th, 2019
How smartphones and apps have evolved in the past decade
With 2019 quickly coming to an end, it will mark the end of a decade that brought along a multitude of technological improvements and advancements. However, today we will focus on smartphones and apps, and take a closer look at how they evolved throughout the decade.
Remember 2010?
Yep, it was exactly 10 years ago (I can't believe how fast time flies). But here's a reminder of how technology used to look like a decade ago and we'll see how it compares to modern tech.
The best smartphone of the year was the iPhone 4, while on the Android side we had the Galaxy S1. Nowadays we have the iPhone 11 Pro with the amazing 3 camera setup and other great Android phones such as the Galaxy S10. They look so much more futuristic than their 10 year-old cousins.
What about the apps?
Back in 2010, everything used to be much simpler. Apps were a lot simpler, they weren't full of ads, and each app had its own properly defined role in our lives. Nowadays… apps are multi-functional. Want to take a picture? You can now do it directly from the Facebook Messenger app, or directly from the Viber or Instagram app. However, a few years ago, you would have to take the picture from the phone's "Camera" app – that was the only way.
Modern apps such as Facebook do a lot more than they used to 10 years ago. You can use the Facebook app to access the Marketplace to sell/buy items. You can also use it as a messaging service, or to watch videos directly from the "Watch" portion of the app. It can also be used to create a business page and to manage to your business, or even display ads to potential customers. But it didn't used to be like this. Facebook was Facebook – you would only use it to see your friend's pictures and upload your own.
Evolution
As you can see, apps have evolved a lot in the past decade. Smartphones have evolved together with them as well. Here are a couple of examples of how apps are now vs. how they used to be years ago:
Well, as you can see, even if most apps became a lot more functional, the interface was kept as user-friendly as possible. This is a key aspect for app development – having a welcoming and intuitive UI.
Another thing that has changed but isn't immediately noticeable from screenshots is the speed of the apps. You probably don't remember how long it took for an app to load, let's say 8 years ago. You would tap on the app, then wait… for a good 5 seconds at least. But since technology has advanced and smartphone processors have become a lot faster, apps take advantage of that processing power. Apps are now optimized to use that extra horsepower in order to make the app faster and a lot more responsive. This is another key aspect of mobile development – optimize your app to be as responsive as possible. Nobody wants a slow-to-respond and sluggish app.
Looking back at the past
There are valuable lessons that app developers can learn just by looking at this evolution of apps. As you can see, apps have improved in certain key aspects, and this is what made them much easier and friendlier to use. So what are these key aspects that a developer has to always keep in mind when creating a new app?
-Interface: Have a friendly and intuitive user interface. One that can be used by anyone, from kids to even our grandparents.
-Speed: Having an app that is very responsive and quick is a given. Nobody wants a slow app. Optimize the app so it is as fast as possible!
-Stability: Nobody wants an app that crashes all the time! Test your app and make sure it won't randomly crash. Remember how often apps used to crash 10 years ago? I do… and it was painful.
-Optimization: Make sure your app doesn't drain too much battery and make sure it is suited for all smartphones. Not long ago, apps weren't tailored to specific smartphones. So if you had a smartphone with a larger screen, most apps would be blown-out and would look bad. Nowadays, no matter what phone you have, most apps are well-optimized to look and feel great on your specific device.
Conclusion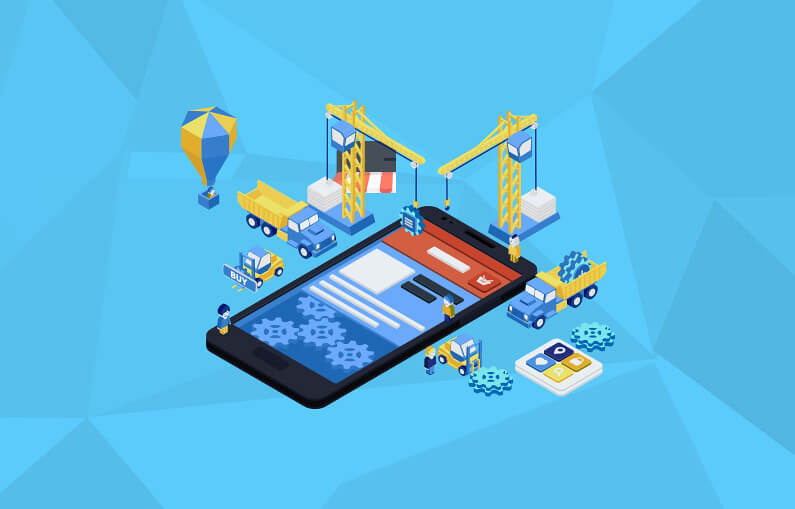 These are the key aspects that we consider extremely important when developing an app. And the past decade is a perfect example of this. These are the aspects that improved the most and the ones that matter the most to users.
So, if these 10 years held so much technological advancements, we're curious to see what the next 10 years will serve us. We've been in the app developing business for over 10 years, and we've seen and done it all… but we honestly can't wait to see what 2020 and the next decade will bring us in terms of smartphones and apps! If history is anything to go by, we should see even bigger improvements and advancements.
Tags: evolution, mobile apps, smartphones
Posted in Apps, Mobile development | No Comments »
Saturday, November 9th, 2019
One of the first decisions we face when starting each of our project implementations is "Which development methodology should we use?" – that's why we thought an article about Agile vs Waterfall would be useful.
This is a topic that usually generates a lot of discussions and debates among the people working on the project. If this is not something you've worked with before, a definition of development methodology is in order; put very simply, it's a way of organizing and breaking down the work of software development. This is NOT about a style of project management or a specific technical approach, although you will often hear these terms all thrown together or used interchangeably.
There are two basic and very popular methods of managing projects in the modern software development industry:
Agile: a specific type of Rapid Application Development and newer than Waterfall, but not that new – this is often implemented using Scrum
Waterfall – also known as the traditional approach
Let's dive deeper into the two different methodologies:
What is Agile methodology?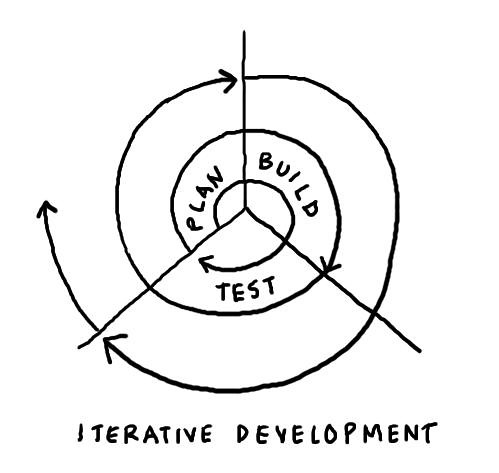 Agile methodologies – in our case, the "Scrum" variant – are built on the idea of a self-organizing, cross-functional team. This team develops a product using adaptive planning, evolutionary development, as well as early and frequent delivery with ongoing communication with the customer. Simultaneously, there is continuous improvement using customer feedback, this way each step of the project is tailored to the customer's needs.
As the name suggests, Agile is a very flexible and fluid method of working – any change in direction or scope can be quickly implemented without messing up the whole process. This is because instead of working on the entire product in one go, the team develops the project in phases.
The process starts with the most basic version of the product – bare minimum functionality, and all subsequent iterations are built up from it. These iterations are delivered to the client – or Product Owner – at the end of each sprint (phase).
A sprint is how the project's timeline is divided, each sprint can last up to two to six weeks. The team decides on the tasks to be completed at the beginning of each sprint, including what product features they will develop and how they will test them. That means the product evolves, adapting to, and delivering on, the most important and valuable features at that point in the project.
It often means a product can be put into use before it's even fully finished, so the project team can get early feedback from users.
What are the advantages of the Agile method?
First of all, it is focused on client feedback. So, it makes sure that the client is continuously involved during every stage.
Agile teams are extremely motivated and self-organized so it likely to provide a better result from the development projects.
Agile software development method assures high-quality work over the duration of the project
The process is completely based on incremental progress. Therefore, the client and team know exactly what is complete and what is not. This reduces risk in the development process.
What is the Waterfall methodology?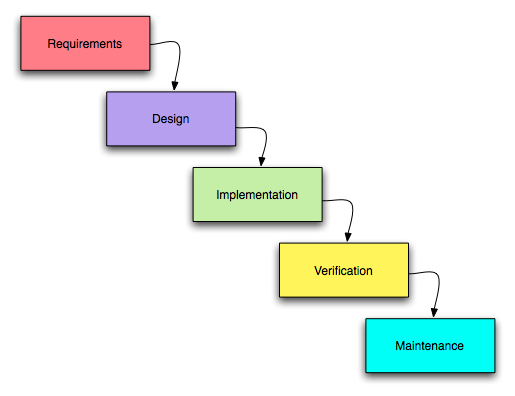 Waterfall methodology is the traditional method of software development, meaning that each phase is distinct and well-defined. The team completes each stage before they move on to the next.
First, the team designs the product, then develops it, and finally test the product once the development is complete.
The methodology is efficient, with each stage properly developed and documented. If the project is handed over to another team, they would not find it difficult to pick up from where the previous team left off because the planning and documentation is so comprehensive.
This does, however, mean that this methodology can be rigid. The planning stage is very distinct from the development stage, so there is not much room for changes once the product design has been finalized.
Typically, Waterfall is chosen where the buyer of the software has a clear specification and the development company needs to deliver exactly as required, often under a fixed price arrangement.
What are the advantages of the Waterfall method?
It is one of the easiest models to manage. Because of its nature, each phase has specific methods and review processes.
It works well for smaller size projects where requirements are easily understandable.
It ensures faster delivery of the project
Processes and results are well documented.
Easily adaptable method for shifting teams
Summary – Agile vs Waterfall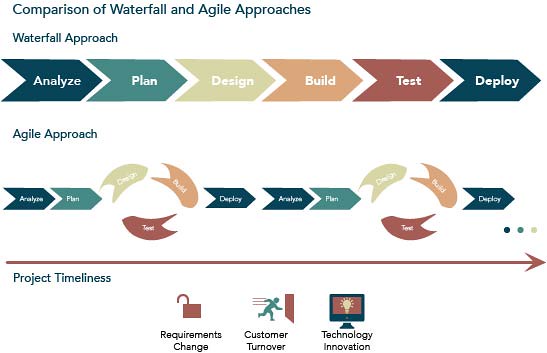 When it comes down to Agile vs Waterfall, it really depends on the type of project you are working on. Both methodologies are good for different types of situations and can help you to reach your project goals. To help you decide on which of these methodologies suit your project, here are the main differences between the two:
The Waterfall model is ideal for projects which have predefined requirements, and no changes are expected. On the other hand, Agile is best suited where there is a higher chance of frequent requirement changes.
The traditional method is easier to manage because it's a sequential and rigid method.
Agile is very flexible and it possible to make changes in any phase.
In the Agile process, requirements can change frequently. However, in a Waterfall model, it is defined only once by the business analyst at the beginning of the project.
In the Agile Description of project, details can be altered anytime during the SDLC process which is not possible in Waterfall method.
Tags: agile vs waterfall, app development, project management
Posted in Apps, Mobile development, News | No Comments »
Friday, November 1st, 2019
There is no doubt that Google has come to dominate the Internet landscape since its creation back in 1998. As involved as this organization has become in the day-to-day lives of people, a significant number of its most popular products remain free to use and simple to access. From its famous search engine to Google Drive and Calendar, anybody can easily utilize many of the most valuable Google products for free.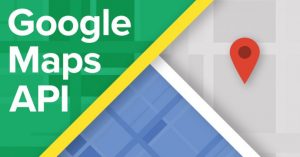 Google Maps, is the most popular navigational tool out there, which is similarly as powerful on a mobile device as on a desktop computer. As you'd expect, Google has a rivalry in this space — however, Google gained the reputation of being the best out of all.  Google Maps API is definitely the titan of interactive mapping online. They are usually the primary stage that new interactive mappers learn, because of the ease of getting started, the omnipresence of Google Maps, and the tremendous popularity of Google in general.
The Google Maps API has moved over to an all-new system that was designed to limit overuse by implementing a pay-as-you-go pricing. This had an impact on everyone with a Google Maps tool on their website.
They first announced that they will stop supporting keyless usage back in 2016  – stating that requests made without an API key or a client ID would not be processed- this came into effect in June 2018.
What does that mean for people using Google maps?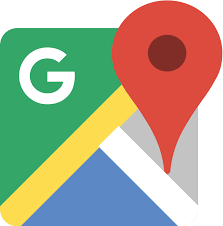 It means that if your website makes a keyless API call to either the Maps API or Street View API, you will be directed to a very low-resolution map that is watermarked with the words "for development purposes only', meanwhile other calls, such as Directions API, Distance API, Places API, etc. – will return an error message.
To overcome this and to avoid any business interruptions – like having a broken map on your website, all businesses that are using the Google Maps API need to visit the Google Maps Platform to create a billing account and to generate an API key for transactions.
With this new pricing structure, came the re-grouping of all of its 18 individual Google Maps APIs into three core products:
Maps: It helps developers to create customized and agile experiences which show the real world to users through static and dynamic maps, Street View imagery, and 360-degree views.
Routes: It gives users the most ideal approach to get from the beginning to end with high-quality directions and real-time traffic updates.
Places: It helps users to discover the world with rich location data for over 100 million places, enabling them to find specific places using contact numbers, addresses, and real-time signals.
How to continue using Google Maps
If your website uses the Google Maps API, you might fall into one of these two categories of users :
users who have an API key
users who don't know if they have an API key,
users who don't have a key and have been knowingly making API calls without a key.
If you have a Google Maps API key
For Standard Plan customers, you need to check your Google Cloud account. There you'll learn all the changes happening to Maps APIs on your websites and get notifications associated with any adjustments you need to make.
Again, the service will largely be free for all yet, but Google tracks use and if you go over their 28,000 connections and $200 credit in any month, they would charge you for the overage. You need large traffic websites to exceed this $200 credit.
If you're not sure if you have an API key
If you are a Google Chrome user, you can easily install the Maps API Checker extension– this can help you check for valid API keys. Alternatively, visit the Maps user guide to find a step-by-step guide to check the validity of your API keys manually.
If you've been working without an API key
You won't be able to use the service for free anymore starting June 11, 2018. To avoid business interruptions, visit the Google Maps Platform Get Started page. Create a billing account, and sign up for the $200 a month free credit plan that allows you to use Maps, Routes, and Places.  Again, you would need the API key setup on your website.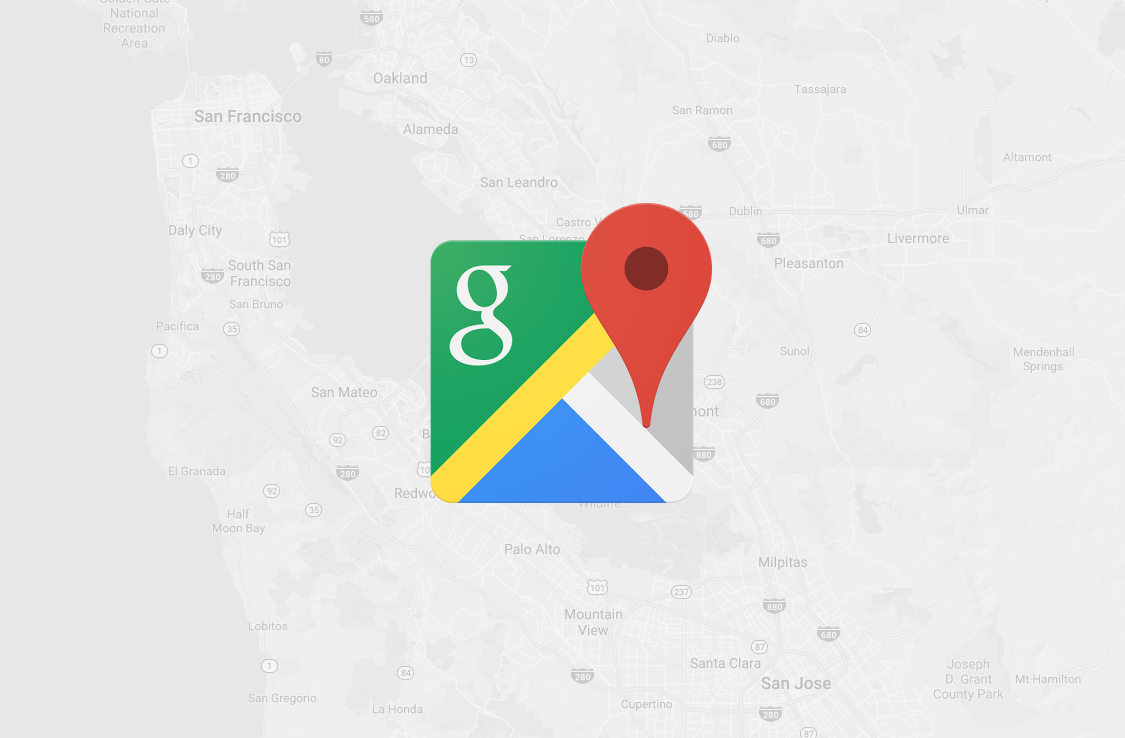 How far will the $200 credit get you?
If using the simple dynamic maps showing the location of your business with a pin, this will be completely free and not part of your credit, therefore the map can be served an unlimited number of times.
For Styled Maps
If you customise the look or use 'styled' maps (for example nightmode) then this is where the credit will begin to be used.
If you use styled maps on your website then expect your $200 to obtain 100,000 calls.
Dynamic Maps – Streetview
If your website uses the Streetview feature then you will be chargeable. Expect your $200 to obtain 28,000 calls.
Routes & Directions
If your website provides a resource for your customers to work out the best route to visit your business, you can expect this to happen 40,000 times before using up your $200 credit.
GeoLocation
If your website uses locations of places nearby i.e. an estate agent showcasing local schools or shops, then expect the $200 to stretch as far as delivering 11,500 API calls.
Tags: app development, google, Google Maps, Google Maps API
Posted in Apps, Mobile development, News | No Comments »
Saturday, October 26th, 2019
Smartwatches – are they any good?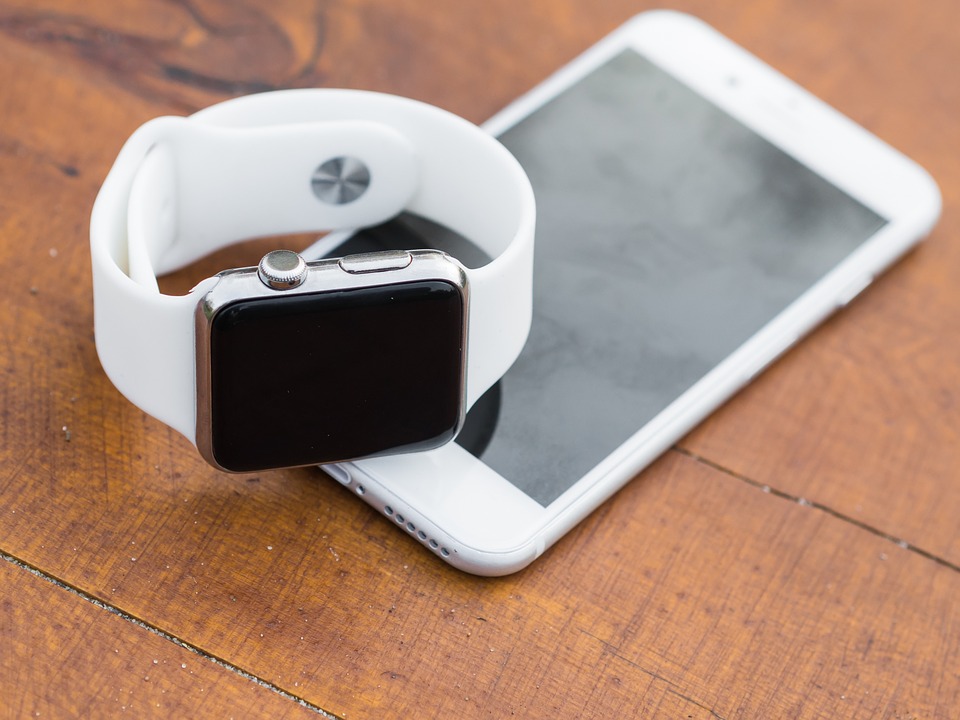 You might be surprised by all the things you can do with smartwatches. Smartphones were initially high-end devices which few felt the need to buy and nowadays I couldn't really imagine not having a smartphone since the benefits are so obvious. I think eventually the same thing will happen to smartwatches but we are currently still at the stage where you might be thinking do the benefits really outweigh the cost.
There is a multitude of features that come with smartwatches that make them worthwhile. There are many things like heart rate monitoring and sports tracking which your smartphone just can't do. Also, there are other features which just are more convenient on the smartwatch or perhaps you want to leave your bulky smartphone in the locker room while doing a workout just with your smartwatch.
It's 2019, smartwatches have been out for over half a decade now. So let's take a closer look at a few of them and see how they've improved over the years. More importantly, we'll find out if smartwatches are actually worth getting in 2019.
What are the key differences between a smartphone and a smartwatch? What can a watch do and a phone can't? You might be surprised by the differences, as smartwatches do a lot of things better than smartphones. Here are a few examples:
Wrist-based heart monitoring has become essential nowadays. I find it so valuable to be able to track my resting heart rate since that's an indication about my physical condition. A lower resting heart rate is an indication of better physical health. Also seeing the heart rate when going for a run or cycling or any other activity is great and something I expect to have in my smartwatch.
Also if you consider the possibly life-saving health benefits that heart rate monitoring might have in the future I think this is just a must-have. Having a device that constantly and permanently monitors your heart is very, very important. Devices such as the Apple Watch have saved hundreds of lives.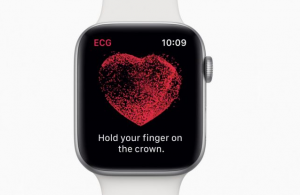 Did you know that the latest Apple Watches (Series 4 and 5) can do ECGs? These are proper ECGs that previously could only be done in hospitals. They can detect atrial fibrillation, and many other heart conditions. This is something that no smartphone could ever do, and it truly can be life-saving as well.
Nowadays, every smartphone can track your steps, calories burned, activities, etc. However, none of them are as accurate as a proper smartwatch that can measure your heart-rate and many other factors that a smartphone cannot. Smartwatches will always be more accurate than phones when it comes to fitness tracking, especially newer models that have GPS, altimeters, barometers and many, many more sensors.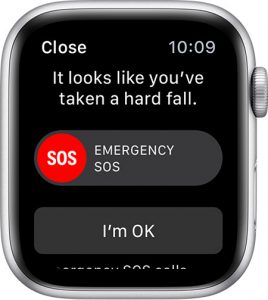 Going back to the Apple Watch – did you know that it has a feature called "Fall detection"? Again, a feature that isn't present on any smartphone, and exclusive to the Apple Watch. If the watch detects that you fell, it will send you a notification that asks if you're ok. If you don't respond to that notification within 30 seconds, or if the watch feels that you didn't move for 30 seconds, it will call the local emergency number and send them your exact location. This is another feature that has saved thousands of lives. Imagine falling down, being unconscious and having your life saved by your watch!
While not so different to smartphones, having all of your notifications pushed to your watch can be helpful. Personally, I find it a lot easier to manage my notifications and get them silently delivered to my watch, rather than having my phone vibrate all the time.
Many smartwatches can be worn during sleep, and they can track your sleep. This is yet another thing that smartwatches cannot do. Once you wake up, the watch can tell you exactly when you fell asleep, when you woke up, how was the sleep overall.
Studies have shown how important sleep is and if you are having trouble getting enough sleep due to staying up too late perhaps it might be a good idea to start tracking your sleep amount and getting motivated to correct your sleeping rhythms.
Did you know that you can use your phone instead of your credit/debit card for contactless payments? All you have to do is set up Google Pay or Apple Pay, and you can simply pay with your phone by simply touching the card reader with it.
Nowadays, smartwatches take that to next level, and instead of paying with your card or your phone, you can pay with your watch. As such, simply touch the reader with your watch, and you're good to go! Paying without even reaching for your pockets definitely feels like the future.
A watch can be useful for many more things as well. It can tell time (obviously), it can be used for two-factor authentication, it can be used to control music, to answer to messages, it can even be used to unlock your Mac.
Conclusion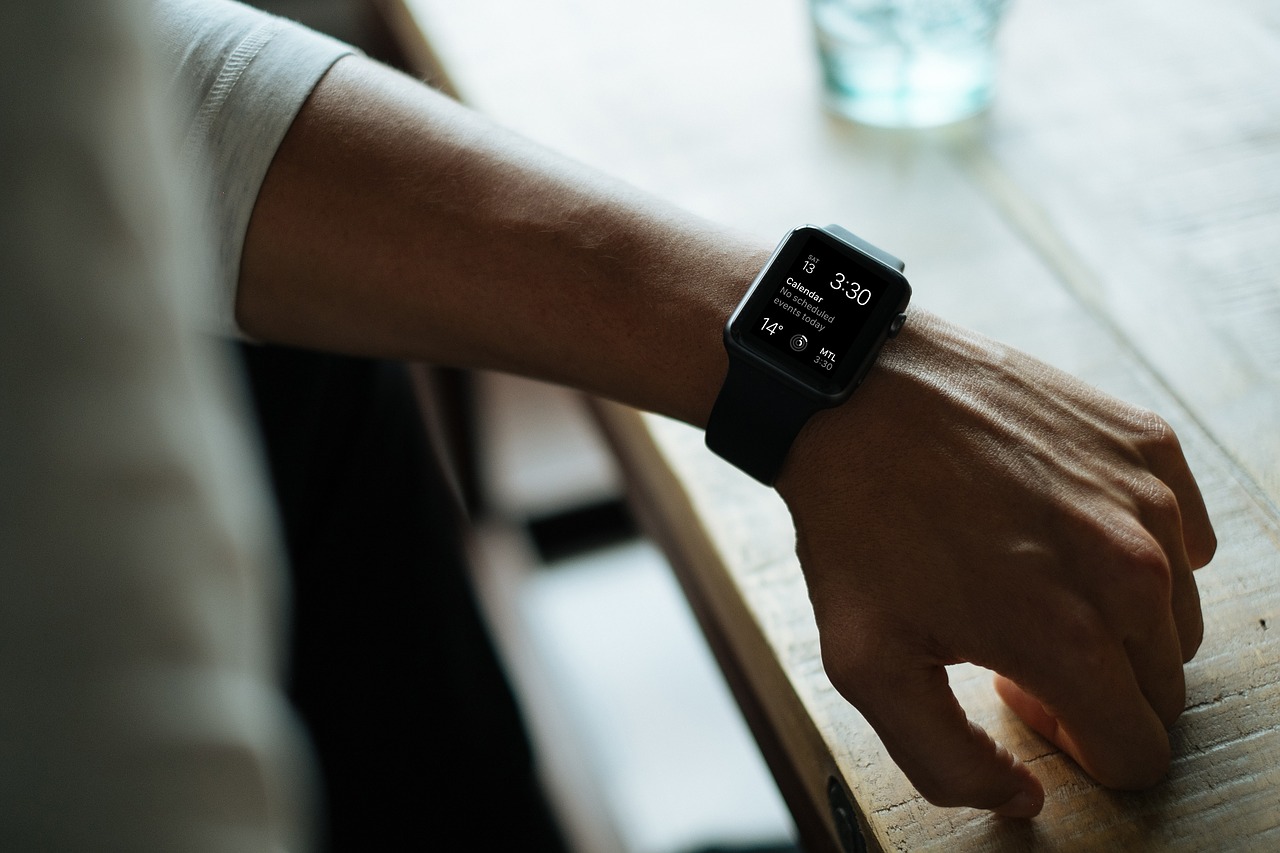 To sum up, having a smartwatch isn't a must, but it can make your life a lot easier (and safer, if you think about features such as fall detection or EKG). There are many great smartwatches that you can choose from, such as the Galaxy Watch, Huawei hands, and of course – the Apple Watch.
Another selling point of smartwatches is that many apps that you use on your smartphones, also have a smartwatch version. Having your app developed for your watch can be beneficial, as you can reach more customers.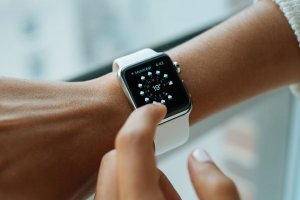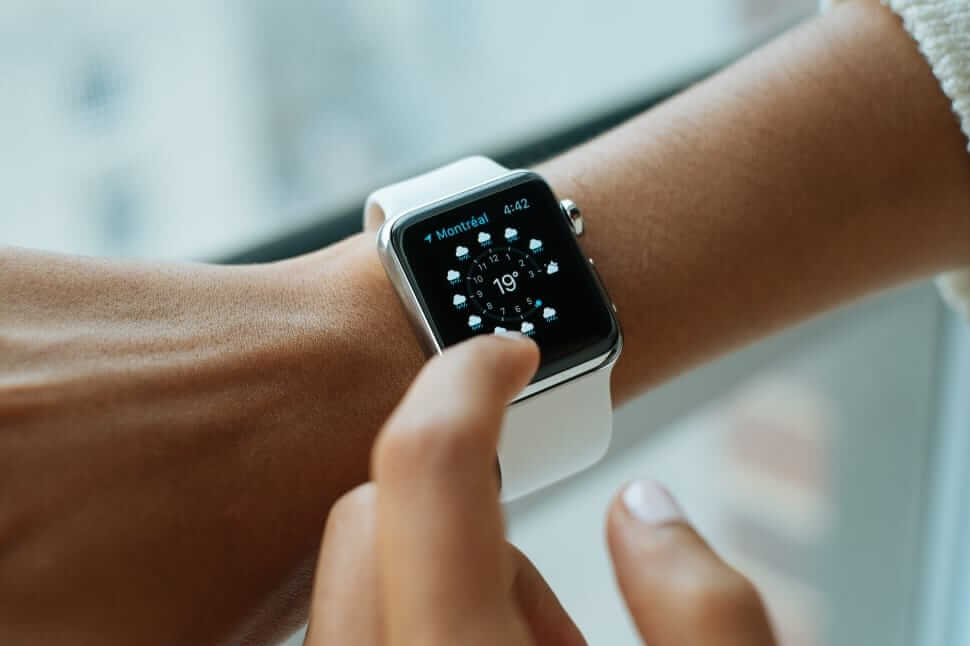 Smartwatches represent a new market, a market that is growing very fast. As such, it would be bad to miss out and not have your app developed for smartwatches. We have already developed a handful of apps for smartwatches such as Apple Watch or watches that use Android Wear. So if you want to reach out to a whole new market and have your app developed for smartwatches, feel free to contact us.
At JustApplications, we listen to you and we build the app exactly as you want it to. We don't just build apps, we create them with love.
Tags: apps, smartwatch
Posted in Apps, Mobile development, News | No Comments »