Posts Tagged 'business'
Sunday, March 22nd, 2020
The best business meeting apps in 2020
With the new coronavirus outbreak, many people have started working from home as of last week. But given that so many people are working from home, how do they still "meet" to discuss business? Well, they cannot physically meet, so they will have to meet virtually, via a business meeting app.
Many of us use these on a daily basis, but most people that are working from home for the first time have just found out about these.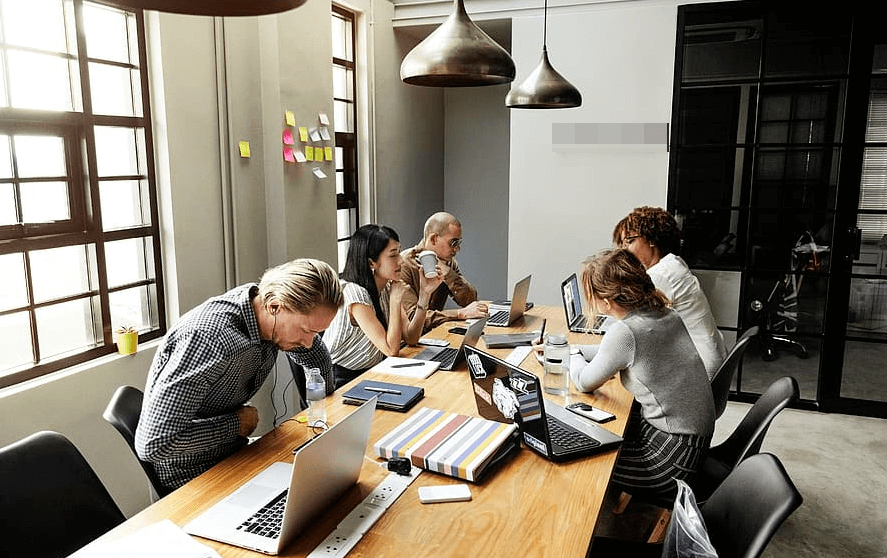 Also, working meetings are the traditional element in the workflow and it often happens when many employees work remotely, or the company has several offices in different cities and even countries. Therefore, such daily or weekly meetings are organized with the help of special applications for group calls and videoconferences. As such, without further due, here are our recommendations for the best business meeting apps:
1) GoToMeeting
This app is a real favorite among hundreds, or even thousands of companies and work teams. And this is with good reasons, because the application is truly great. In order to make calls and video conferencing, there is everything the user needs: high quality video, secure connection of online meetings and screen sharing ability for conference call participants.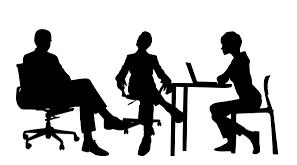 The best part about it? It's free for up to 3 participants. If you have more participants, it's about £30/month, not that bad considering how great and easy-to-use it is.
2) Zoom
Another great app for virtual meetings, Zoom has seen great success, with over 10 million downloads in the App Store and Google Play. In addition to the functions standard for this type of application like HD video conferences and secure audio calls, this app offers its users to make their group meetings with mobile phones via cellular connection or available Wi-Fi.
The interface is super easy to use, and it's only about £10 per month. It doesn't get any cheaper than that.
3) Google Hangouts
You've probably heard about Google, right? Well, they've been developing their own videoconference app, a competitor to Skype and the apps listed above. It's called Hangouts and it's awesome. It allows participants to perform group video calls and hold online meetings. Actually, this application is far from new, and previous interface was not so great to be honest. Fortunately, an updated version of this app is quite workable and provides a good connection for calls.
Remember how we've said that £10 is a great price, and it doesn't get any cheaper than that? Well, it does, as Google Hangouts is completely free for all Google users. Highly recommended.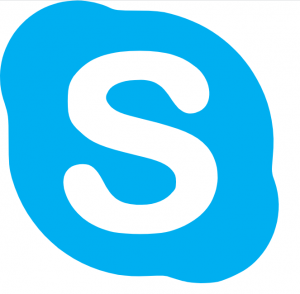 The classic, the go-to app, the one and only … Skype. Everyone knows about Skype (even my grandparents, I think), that's how common it is. And this is with good reason, as it's one of the, if not the best app of its kind.
In fact, it is so common that people have even started turning "Skype" into a verb. Have you ever heard of the phrase "I'm just skyping my mom"?
We think that Skype is so widely known, so popular and such a great app that it requires no further introduction. It comes pre-installed with every Windows 10 machine, and it's free to download and use.
There's a more fancy version of Skype however, called Skype for Business. It offers the possibility of having meetings with up to 250 people, and it offers great integration with Outlook and Office. Sounds great, but you probably do not need it. But in case you really want to have the best version of Skype, then it's only about £2-£5 per user, per month.
5) Join.me
A simple, yet great app, with an easy to remember title, Join.me is one of our picks for the best meeting apps. This online meeting platform is actively gaining its popularity among development teams and other persons who like to use simple and good-working tools to their business.
The app allows its users gathering online video calls very quickly and sharing their screens or sending documents or media files in a comfort way during the meeting. There is no anything extra what can make the connection worse and lower – this group meeting app is as convenient as you are talking to each other in the same office together!
It's quite cool actually, and it's free. We like it, and we're sure you will enjoy it as well.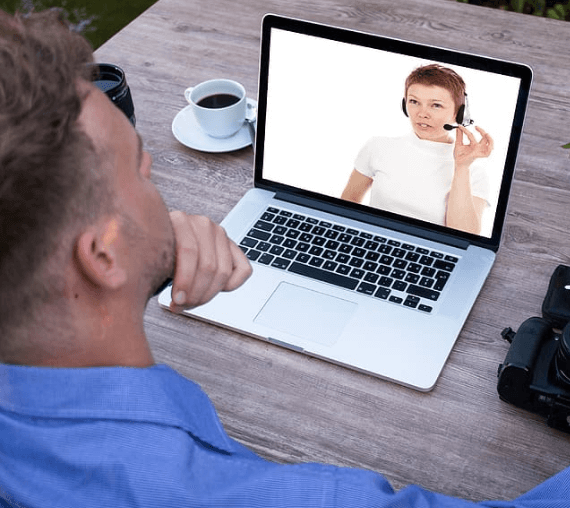 To sum up
Whether you're working from home due to the outbreak, or whether online meetings are a part of your daily workflow, these great apps can make your life much easier.
The main goal of online group meeting application is to make the work team have the feeling of their full presence and to make the teamwork more effective. As such, feel free to pick any of these amazing apps, neither of them will let you or your team down. We are sure you are going to love them.
Tags: apps, business, meeting
Posted in Apps, News | No Comments »
Monday, August 5th, 2019

Customized software and off-the-shelf software are the two main options to choose from when it comes to business applications that enhance productivity and efficiency. Small and middle-sized business owners should think about the differences between the two before choosing the option that best fits them.
If your business is designed to target a particular niche, finding solutions for daily business operations, for business development, or for customer service should get in the hands of specialized software designers. One of the major advantages of customized software development is providing the full set of features required to cover the needs of your business.
Let's take a look at the pros and cons of customized software to help you decide whether it is the right choice for your business or not.
Although commercial off-the-shelf (COTS) packaged solutions are often cheaper, being made for the masses results in extra costs over time due to their inefficiencies. Not to mention any ongoing maintenance and subscription fees.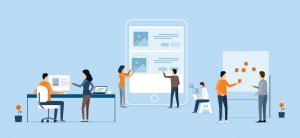 Customized software gives businesses the freedom to use and modify their application to meet the needs and also allows complete control of the software. Custom software will also allow future personalization to meet the company's specific expectations.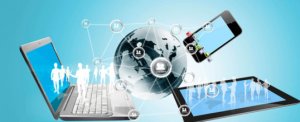 Businesses invest in custom software development to obtain a unique asset, because they have different operational needs or because they can use their technological advantages to differentiate their business from the competition.
Your custom solution is something that your competition can't have. And as long as it's well-designed by your development team you should see yourself getting ahead of your competitors in no time.

Choosing to hire professionals to create and implement customized software means you're only paying for the complexity of the features that are necessary for your operations. And you're not getting anything you don't need. This is a major advantage, but it may also mean higher initial investments and also more time and effort.
Given the extra time to implement, with customized software development you will likely find that you'll be able to use the application for all of its features more efficiently in the long run. Also, keep in mind that COTS solutions are not as easily modified or upgraded as customized ones.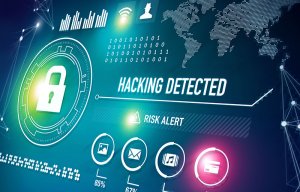 Custom application development companies pay particular attention to security measures, while off-the-shelf software can be more easily hacked. This may lead to access to sensitive business data by using application vulnerabilities.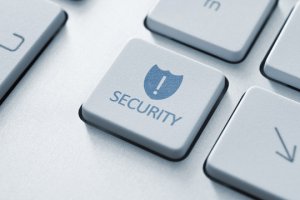 The safety of a business is one of the main priorities of every owner. All companies are focused on long-term relationships with each of their clients, and customized software brings a higher level of data protection.
But on the other hand, you must be careful to choose the right development team. Unprofessional and low-quality solutions may result in blown budgets and missed deadlines, which are crucial for the future of any business. That is why you shouldn't rush when choosing a developer. Overpaying at this stage wouldn't particularly be a problem since it's better than getting a custom software solution that doesn't meet your requirements.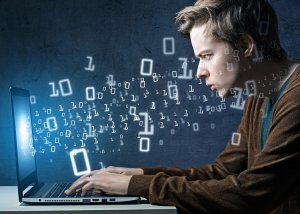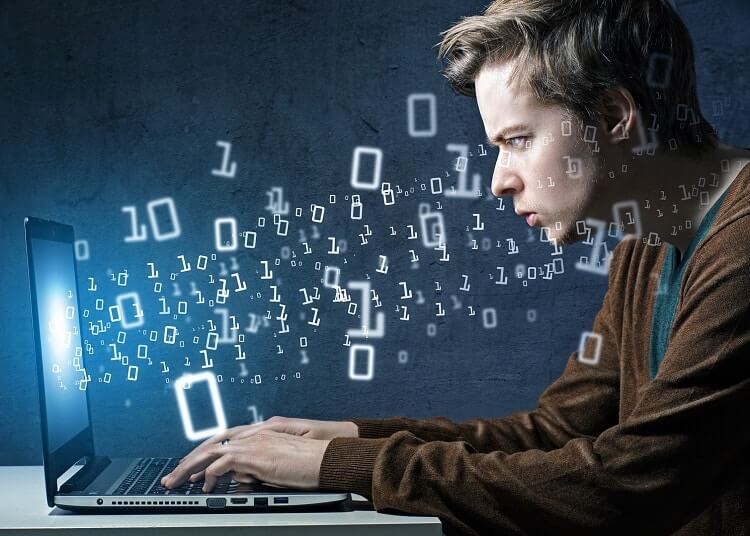 Customized software development gives you the ability to adjust to changing conditions. And in case of need, the development company can always adapt your app to the ever-changing business environment.
Haven't yet decided what would best fit your business' needs? That's okay. building something from scratch is not always easy and there are plenty of hybrid solutions that allow you to take off-the-shelf software and customize portions of the existing framework to meet your requirements.
Tags: business, COTS, custom, custom software, Customized software, just applications, off-the-shelf software, online, pros and cons, software development
Posted in News | No Comments »
Monday, July 29th, 2019
Google My Business page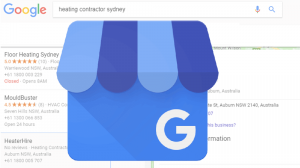 Google constantly tries to help its users on claiming ownership of their business listing, this being one of the most vital segments of any smart SEO strategy. The others are verifying and optimizing Google My Business listing.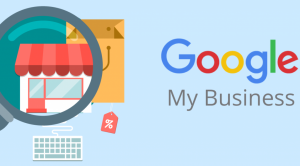 The information available on Google.com/business is pretty straight forward, anyone can understand how to take charge of what users see when searching for your online shop or business.
Google Business includes all the necessary tools to update your Business Profile or to build a brand new website, and thus start engaging with your clients by phone, tablet or personal computer. And everything is for free.
Here is a useful tutorial from the Youtube account of Google Small Business that shows you the exact steps to take in order to request management access to a Google My Business page. We suggest keeping an eye open on this account, subscribing to it will help you understand more and more features of the Google Business system, including how claiming ownership works: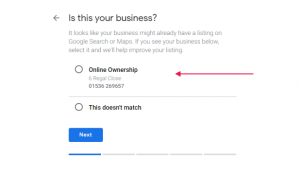 It's important to know that business owners or authorized representatives are the only ones capable of verifying and managing their own business information on Google My Business, but anyone can share management access to any listing by adding one or multiple managers.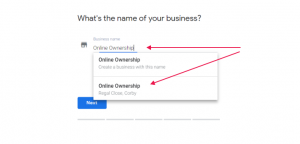 These are the exact steps that you must take for claiming ownership on an already verified Google Business listing:
Go To: business.google.com/create

Start: Typing in the Businesses Name

Search for a business name

Select the correct business

You'll see a message saying someone else owns this business

Click: Request Access

Submit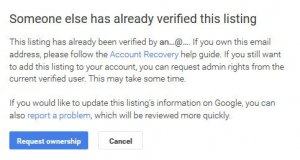 In the unlikely situation that someone else has already claimed your Google Business page, you will simply have to find out who owns it and send a transfer ownership request to by email.

In case a former colleague or employee has claimed your business page, you can take ownership if you can still access that company email account, which may be tricky at times.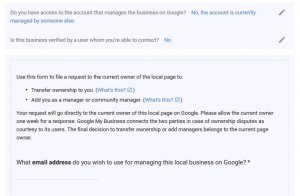 Google knows this. In case you won't be able to contact that person or find out what their email was, you can relax, as Google will simply take care of it for you. You have to fill out a form and wait approximately one week for everything to be taken care of in your direction.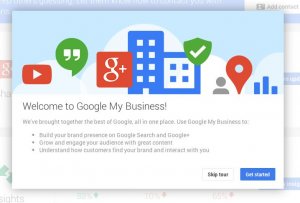 There are instances when requests are denied. If your ownership request won't be approved, Google will notify you by email and also when signing in to your Google My Business account.
You will still be allowed to suggest an edit to the listing or, in some special cases, appeal Google's decision.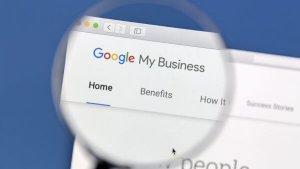 If the decision will take too long and you won't be hearing from anyone after 7 days, you might be allowed to claim the listing yourself. You will have to sign in to Google My Business and look for a Claim or Verify button on your dashboard. In case you won't see an option to claim the listing, it means that t's not eligible to be transferred.
Once your Google My Business Page is verified and your ownership is set, you will have to optimize it for SEO. The success rate of your visibility ranking in local search results is crucial for the success of your business listing.
Here are a few tips to help boost your SEO and UX and gain more and more success with your business.
Tags: business, claiming ownership, google, google business, google my business listing, listing, optimize, search engine, seo strategy, verify
Posted in News | No Comments »